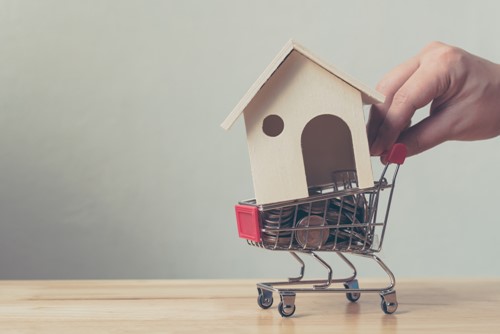 Image by Monster Ztudio from Shutterstock
It's time to find the perfect place of your own but becoming a property investor has one significant roadblock: a down payment. It's something that can stop potential home buyers in their tracks.
While winning the lottery or inheriting a windfall would be fabulous, you don't need those luxuries before you can buy a home. What you do need is a budget that gives you a strategy for saving while still attending to daily expenses. The challenge is that once you create the budget, you must protect it from the temptation to stray from it while you work toward homeownership.
Here are some proven savings tips AND the budget-busters to avoid along the way:
Strategies for Saving
Detached account. While it seems obvious, many people lack even one savings account. If you already have an account, open a separate one specifically for your down payment. Make sure that it is detached from your other accounts. Having a savings account designated specifically for your down payment may get you to think before dipping into it whenever other expenses arise.
Different bank. You can open an account at the same institution where you have a checking account but doing so makes it easy to move money back into your spending account. Open an account at a credit union or savings bank to which you'd have to make a special trip to remove funds.
Direct deposit. Have the down payment part of your paycheck deposited directly to your savings account. You'll avoid having immediate access to it. If you don't see it in your checking account, you are less likely to spend it.
Establish a Budget
Now that you have established a place to save funds, you need to create a budget to handle your remaining income. Many online programs will help you to create a budget and keep track of your spending. They are often free or low fee to use, and some give you access to a financial planner at a small cost. Here are some to get you started:
Budget Busters
Many people resist living by a budget because it feels too restrictive. The notion that your budget monitors your spending keeps many from reaching even first-level financial goals. Money is a tool to help you get what you truly desire. If you wish to own a home, eliminate these budget-busters that will keep you from getting there:
Overpriced drinks. If your caffeine habit racks up more than $10 every day, consider cutting that expense in half. If you saved five dollars each day, you could add $1825 to your down payment account by year's end.
Eating out. Just like a daily coffee break, restaurants and fast food meals can easily break a budget. Studies show the average American spends over $250 each month eating out. If that sounds like you, eat out half as often and bank another $125 each month. Over 12 months, that's $1500 more towards your down payment.
Clothes. Many offices allow casual dress so spending on clothes for work might not be necessary. If you work in an environment that requires professional attire, purchase a few high-quality pieces that you can style in different ways with lower-cost items.
Expensive vacations. The travel bug bites in every season. Even a cheap flight with a hotel and rental car can result in a fairly large expense. Instead, you may opt for a getaway that is within driving distance while you're working through your savings plan.
These budget-busters could add up to $6000 or more annually. That could be enough to qualify for a down payment when using an FHA loan. Add to that a portion of any extra money you receive throughout the months for bonuses, birthdays, holidays, rebates, and tax refunds, and your down payment account can grow significantly in just one year.